Parental Discretion TV Theme for Nick Jr.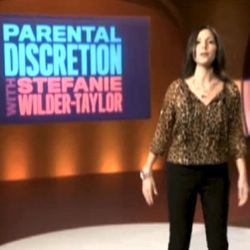 Nick Jr. is launching a new series of shows under their Nick Mom branding, and I'm excited to announce that I wrote the theme for the late night comedy talk show Parental Discretion with Stefanie Wilder Taylor. Parental Discretion is a show that blends studio elements, interviews, video commentary, monologues and panel discussions with hidden camera, mom on the street and sketch comedy. Each episode explores a different element of parenting, all through the irreverent and funny eyes of author and comedienne Stefanie Wilder-Taylor (Naptime is the New Happy Hour, Sippy Cups Are Not for Chardonnay). The series is executive produced by Hugh Fink (The Late Show with Craig Ferguson, Saturday Night Live, The Showbiz Show), Jane Lipsitz and Dan Cutforth from Magical Elves (Top Chef, Fashion Star) and Co-Executive Produced by Stefanie Wilder-Taylor and Jim Jones (Mad TV).
Parental Discretion airs on the Nick Jr. network each weeknight. Check local listings or visit the Nick Mom page for more details.
&nbsp