About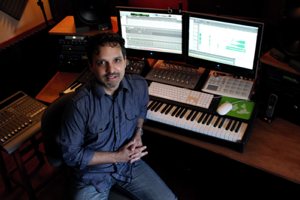 David Das is a sonic architect with a wide-ranging and unique background. He is an active composer, producer, and songwriter based in Los Angeles. His experience covers the range from films, TV shows, commercials, and other media work, over to pop/rock/jazz music production, choral and orchestral writing and arranging, and more.

His clients include 20th Century Fox, Coca Cola, Delta Airlines, and Disney, and numerous pop, rock, R&B, soul, and jazz artists.
With a background in pop and jazz but thoroughly schooled in the classical tradition, David has lived and studied all over the world, including the U.S., England, Italy, and Singapore. He earned his degree in classical piano and conducting from the University of North Texas, and during that time was a member of the award-winning Jazz Singers.

Later seasons in both Nashville and in his current home of Los Angeles brought opportunities to tour as a keyboard player, arranger, producer and musical director for such diverse artists as Grammy-winning singer Rebecca St. James, American Idol superstar Katharine McPhee, Rachael Yamagata, Ginny Owens, Margaret Becker, Bryan Duncan, Ryan Farish, and many others.
Nowadays his production work ranges from film scores and orchestral/choral writing over to pop, rock, R&B, soul, and jazz production. His music has appeared in numerous TV shows and films, including American Idol, America's Got Talent, The Sing-Off, and his arrangements have been published by Hal Leonard. He also does sound design work for Big Fish Audio, Native Instruments, and MOTU.
David hates talking about himself in the third person. It's like he's trying to impress someone, and the music should really speak for itself.
Partial list of TV credits: American Idol (FOX), Chautauqua, An American Narrative (PBS), Corazon Valiente (Telemundo), First Week In (Discovery Channel), Hair Battle Spectacular (Oxygen), Judge Karen, Made (MTV), Millionaire Matchmaker (Bravo), Monster Fish (Outdoor Channel), My Big Redneck Vacation (CMTV), Nothing But Net (MTV), Parental Discretion (Nick Jr.), Poker After Dark (NBC), Say Yes To The Dress (TLC), The Sing-Off (NBC), So You Think You Can Dance (FOX), Toddlers and Tiaras (TLC), What Not To Wear (TLC), Wicked Tuna (National Geographic), The Young Icons (CW).
Partial list of movie credits: The Appearing (score, 2013), Crook (score, 2009), Dead Cat Bounce (score, 2010), Dreamgirls (musician, 2006), Flint Creek (score, 2010), Jesus Henry Christ (additional music, 2012), The Kirkie (score, 2009), Joyful Noise (musician, 2012).
Partial list of trailer and commercial credits: Delta Airlines (commercial), Dragon's Dogma (video game trailer), FOX On Demand (commercial), Tom Clancy's Endwar (video game trailer), Wall Street (20th anniversary trailer), Weight Watchers featuring Jessica Simpson (TV commercial).