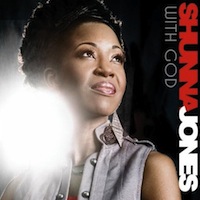 Shunna Jones' debut project, a modern gospel/R&B album with some great funk, rock, and worship flavors called With God, has just been released, and I'm privileged to have co-produced it with Dan Lutz, mixed it, and co-wrote a couple of the songs on it.
The project began life in late 2010 when Shunna decided to begin working on this record and assembled the songs from her catalog that would be a part. Basic tracking was done at Stagg Street Studios, a wonderful studio in Van Nuys, CA with an API desk, comfortable surroundings, and a lot of flexibility to record in different ways.
In one day, we laid down the rhythm section for all the songs with Keith "Stix" McJimson on drums, Dan on bass, Dave Wood on guitar, and Kevin Teasley on keyboards. All four instruments tracked live together, with very few fixes or overdubs because we were very much going for a live band feel. We did record to a click, but all the players felt a lot of freedom to groove with each other and take musical chances that, I think, helped capture a more spontaneous and live feel that shows in the finished recordings. Each of the four principal musicians are not only experts at their instruments, but also bring a wonderful original creative spirit to the project, and after a long, grueling, but rewarding day, I felt like we had captured something very special.
After the Stagg session, further overdubs were done at my studio in Burbank, including several lead vocal sessions, two 4-part background vocal sessions, a 4-part horn session, and a choir session. I ended up adding some keyboard overdubs, as did veteran session player Jeff Babko from his home studio. Anson Dawkins of the gospel group Dawkins and Dawkins performed a guest lead vocal on "Thank You" and e-mailed his vocal tracks in.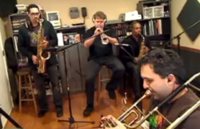 The horn session (trumpet, trombone, alto sax, and tenor sax) was broadcast live on the internet for interested fans to tune in.
It's a great pleasure when a project runs so smoothly, with top-shelf musicians who bring their best creativity to the table, great songs, great performances, and a great vibe.
The record was capably mastered by Pete Doell at Universal Mastering. I love working with a great mastering engineer like Pete in a great room who is able to bring good balance to a set of finished mixes and be a creative partner to make a project all that it can be.
Here's a medley of clips from the album to give you a taste of its sound:
On March 19, 2011, some of the musicians from the album took part in a CD release party where we played the entire album from top to bottom.
With God is available direct from Shunna's web site, iTunes, and Amazon MP3. A portion of all proceeds is being donated to Smile Africa and Generosity Water.