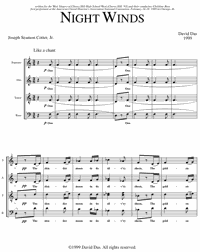 This is a choral commission I did in 1999 for Cherry Hill West High School, in Cherry Hill, NJ. It was performed at the 1999 American Choral Directors Association (ACDA) national convention at Symphony Hall in Chicago, Illinois, and was conducted by Christine Bass. The video of this performance is viewable below.
The text of the two poems, Night Winds and Rain Music, was written by Joseph Seamon Cotter Jr. (1885-1919), a playwright, journalist, and poet from Louisville, Kentucky.
If you are a choral director who would like to peruse the score for evaluation, please use the Contact page.